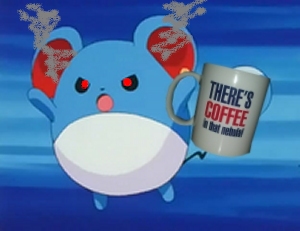 Admiral

Posts: 1613
Joined: Thu Mar 11, 2004 11:19 pm
Location: Probably by the kettle
Okay, I'm at the end of my tether so shite like this prods me off the bridge.
One of my favourite reviewers is covering Voyager. He's never seen it before. He's hilarious, I've been a fan ever since he endured Twilight. He's only on Season One now and seems to be enjoying it a lot, really getting into it. I was worried because the bloody Star Trek community WILL NOT SHUT UP about how much Voyager sucks because they hate it. In your opinion it sucks, this isn't a fact you overzealous pieces of sh..........
I was dreading it and looking forward to the Voyager reviews at the same time. Looking forward to it cos I knew he'd write some funny reviews, and he'd enjoy the majority of it. Dreading it because Voyager brings out the worst in the Star Trek fandom. His site's comment section is no diferent. Every single review there has had at least one schmuck saying something like "oh I think I'll bow out of these ones as I dislike Voyager, yadda yadda. What reviewer said is what puts me of. DS9 is da-bomb, bestshowever etc..."
Latest review is State of Flux. One of the quotes from the review
In the eleventh episode of the first season of Voyager, WHAT IS WRONG WITH THIS SHOW. Intrigued? Then it's time for Mark to watch Star Trek.
He didn't mean it in the bad way. He liked the Seska betrayal, the Marquis, Kazon stuff. He adores Janeway, haha. He usually says stuff like this when he gets invested.
Of course..... meanwhile in the comments section
"WHAT IS WRONG WITH THIS SHOW" I asked myself this question many times whilst watching Voyager. Whilst I'm glad you're having fun with the show Mark I really couldn't stand Voyager. For reasons I can't talk about without spoiling stuff. Voyager doesn't induce frothing rage like Enterprise did but it comes damn close at times.
F***************** OFF
Why read this. Why say this. You can like or dislike it all you damn well want, but frothing rage. Really? I only have frothing rage for DS9 but only because its fans treat it as the holygrail, while stating their I HATE VOYAGER, LOOKATME, as fact. I bet this person likes DS9 too damn much. I'd bet all of my savings on it.
This is what I was worrying about. That the review would go into this show thinking about what these jackasses are saying, and not give it a fair chance. I hope he starts to rate it higher than DS9. I mean, Ihave a feeling he'll like 7, but will have a field day complaining about thecatsuit, but I can live with that if he does. It bothers me a lot, that so many new Star Trek fans get warned off of Voyager because they have a beef with it. It bothers me that I spent so long on the Voyager side of the fandom, doing this site, not aware that there's people out there who think less of me for it. It's laughable, if it weren't so soul crushing. Without fv I probably wouldn't have cared so much. It feels like I'm under attack, it's so weird.
So yeah, f*** off idiot that has frothing rage for a show that they're still, 15 years since it's over, reading reviews about. Pathetic tosser.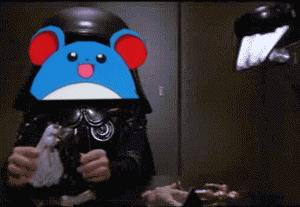 No Marill, no one's seen you playing with your dolls again